"Discover How to Recession-Proof Your Business
Using the Internet"
Download completely FREE my breakthrough Recession-Proof Your Business White Paper and start getting results from today!

Hi I'm Kerrie Mullins-Gunst and I've been running my own consulting business since 1993 – through good times and bad.
So I know there are pitfalls to avoid in difficult times! And while it's true that some businesses are doing it tough at the moment, there are some simple things that you could be doing right now to make life much easier.
Now I'd like to share with you some of my most significant secrets – FREE. I'm not sure how long I will keep this special report free, but if you sign up today it will always remain free for you.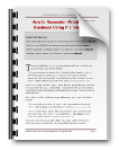 Some of the things I will share with you include:
How People's Behavior Changes in a Recession and How You Can Profit from It [Page 2]
What You Should NEVER Do in a Recession and What to Do Instead [Page 3]
The 4 Reasons Why You Need to Market Your Business on the Internet [Page 4]
The Top 3 Ways to Market Your Business on the Internet Based on ROI [Page 6]
Just fill in your name and primary email in the boxes below – and then click the button to instantly receive:
your Special Report, plus
a secret Bonus (you'll be amazed at the value you get from this for free),
lots of tips and ideas for automating your client attraction systems
and much much more…
.
Enter your details here to grab your Special Report now!

..
Make sure you double check your email address, because that's where we'll send your Special Report.
Don't delay.  You can start to Recession Proof Your Business today – if you know how…
Enter your details today and click the button to claim your special report now!

.